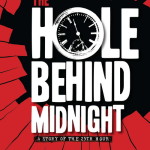 And here is Episode 9 of the Hole Behind Midnight audio book podcast. Book by Clinton J Boomer. Audiobook produced by Julie Hoverson
Everything you ever wanted to know about being a secret king of an emptied empire, but were afraid to ask.
The Hole Behind Midnight is meant for Mature Audiences and contains strong language and adult themes. There we warned you.
You can find the main sight for the podcast here.
And is you are interested in the book, you can find details here