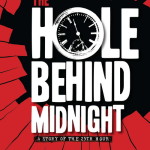 And here is Episode 3 of the Hole Behind Midnight audio book podcast. Book by Clinton J Boomer. Audiobook produced by Julie Hoverson
Royden Poole's night isn't getting any better, but he might have a little help now, provided he has enough cash on him.
The Hole Behind Midnight is meant for Mature Audiences and contains strong language and adult themes. There we warned you.
You can find the main sight for the podcast here.
And is you are interested in the book, you can find details here.
If your looking for me in this episode forget it, I'm not back for a couple of episodes, but listen anyway, this is good stuff.