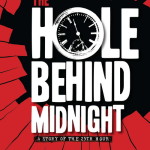 And here is Episode 5 of the Hole Behind Midnight audio book podcast. Book by Clinton J Boomer. Audiobook produced by Julie Hoverson
Royden finally rejoins the regular world, already in progress. Of course there is still that whole framed for murder thing to deal with.
The Hole Behind Midnight is meant for Mature Audiences and contains strong language and adult themes. There we warned you.
You can find the main sight for the podcast here.
And is you are interested in the book, you can find details here.
And hey, I'm somewhere in this episode. Good times.