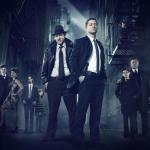 Three new TV series debuted, this fall, all based on DC comics characters. With all this comic love on TV this season I will be doing early season reviews for all three in the order they debuted, and follow with season wrap up reviews, just as I have done with Agents of S.H.I.E.L.D. and Arrow.
The first of these reviews is Gotham.
Even though it has the highest profile of the three new shows (as it is part of the Batman mythos), Gotham has a huge Smallville shaped albatross hanging around its neck. The premise of the show is that it takes place directly after Bruce Wayne's parents are murdered and follows newly minted police detective Jim Gordon (Ben McKenzie) as he investigates the murder and deals with the rampant corruption in Gotham. The show also follows the formative years of Bruce Wayne (David Mazouz), along with several other prominent Batman characters, with special focus on Oswald Cobblepot, aka The Penguin (Robin Lord Taylor).
There is a lot of baggage a series has to deal with when it is a prequel to a well-known story. I have made my feelings about Smallville (and all the things that went wrong there) known previously. It is, however, possible to have a well done prequel (e.g. Hannibal). The challenge is in which parts of the story canon you keep as sacred, and which parts you are willing to change. Above all else, it needs to be a good show, with strong writing and acting.
So how does Gotham do on this front?
The series was created by Bruno Heller, who also created The Mentalist and HBO's Rome. As such, it does have some decent writing, but it often comes off as uneven; although, to be fair, some of that could also be the acting. Basically, the show is a frustrating mix of wonderful, passable, and awful. On the plus side, you have the Penguin; his storyline is far and away the best thing about the show, and Taylor's performance is great, showing the Penguin as a grand manipulator – sniveling in one scene and cunning the next, but always with an eye towards getting what he wants. If the show were just about the Penguin, it would be great.
Another of the pluses is Jim Gordon's partner Harvey Bullock (Donal Logue) who is corrupt, a drunk, and still one of the best cops in the GCPD. Logue is always good in everything he does, and he goes all out here. The best thing about Harvey is that it is clear that Gordon is getting to him and that his story will be one of redemption.
The final gem of the series is Alfred (Sean Pertwee). Unlike previous versions of the character, this Alfred is more of a rough and tumble type, willing to bawl Bruce out, while simultaneously calling him sir. He is portrayed as struggling to figure out how to raise Bruce and help him deal with the death of his parents.
As to the passable parts, sadly we find our lead character Jim Gordon. Gordon is upstanding and unwilling to compromise his principles, but must find a way to navigate the corruption of both the GCPD and Gotham in general. There is nothing wrong with McKenzie's performance, or how the character is written, it's that the series seems to just happen to him, rather than him being a driving force.
There's also Selena Kyle (Camren Bicondova), who is portrayed as a homeless street urchin and thief. She witnesses the murder of the Waynes and becomes somewhat obsessed with Bruce. I really have no problem with Bicondova's performance, but she has only had dialogue in two of the episodes so far despite appearing in every one. Most of the time we see her silently skulking around either watching Bruce, or tailing Gordon. There is potential for her to be engaging, but they haven't done anything with her, so far.
And then we have Bruce Wayne (David Mazouz) himself. Bruce is portrayed as channeling his grief into an obsession with figuring out why his parents were murdered. They are showing his development as a detective and his scenes do work, with a lot of thanks to support from Pertwee's Alfred. But he is not the focus of the series and in some episodes only gets one scene.
And then there are the bad parts of the show.
Chief amongst these is Fish Mooney (Jada Pinkett Smith), lieutenant to mob boss Carmine Falcone (John Doman). Fish wants to overthrow Falcone and goes through a lot of elaborate steps in her efforts to do so. However, her primary purpose is to be a foil for her former underling, The Penguin, whom she ordered killed in the first episode. His defection to another outfit does not sit well with her. Any scene with Fish just drags on the momentum of each episode. Her outfits are crimes against both fashion and logic and her performance seems to be a bargain basement version of Eartha Kitt's Catwoman. This is particularly frustrating because we know Jada Pinkett Smith is a good actress, so I have to assume this is how Fish is written and directed and Jada is just going along with it.
Another drag on most episodes is Gordon's fiancée, Barbara Keen (Erin Richards). She just seems to be someone for him to worry about, or to create complications for him due to his needing to keep a variety of city secrets. She hasn't been given any real character traits beyond worrying about Gordon, or being upset with him. Her only other arc is that she had a relationship with Detective Rene Montoya (Victoria Cartagena), which has led Montoya to have an obsession with proving that Gordon is dirty. Beyond that, Montoya herself also has no personality.
And this leads to one of the great fanboy complaints about the series. Most of the characters are from the Batman mythos, but other than Selena and Tommy Elliot (who will become Hush), all of the other characters are all roughly Gordon's age. In the case of Penguin this works fine, but for Montoya, her partner Crispus Allen (Andrew Stewart-Jones), future Riddler Edward Nygma (Cory Michael Smith), Victor Zsasz (Anthony Carrigan), and Harvey Dent (Nicholas D'Agosto), these are characters that are traditionally roughly Batman's age. Here they are all roughly 15 years older than their usual presentation.
This is where the show falls apart for me. They want to have their Batman villains in a show that does not have Batman himself. And with the rate they are introducing characters, if the show gets multiple seasons I'm afraid they will start advancing arcs that make no sense without Batman's presence.
This leads me to my final problem. The grade. I am giving Gotham a C – at this time. It is going to drive the long time Batman fans up the wall with its handling of the characters and story arcs. It is actually going to be more enjoyable to non-fans who are not as invested in the mythos, but even they still have to deal with the uneven mix of good and bad performances, writing, and characters.