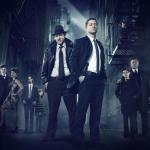 With the second season premiere of Gotham just around the corner, I want to take this time to do my season wrap up review of the first season. If you want to check out my review of the first few episodes of the season you can go here.
So did the season improve as it went along?
Well, yes and no.
The problem that plagued Gotham (from the beginning) was its uneven mix of good, passible, and bad elements. As the season progressed the good elements got better, the passible elements improved, and the bad parts generally got worse.
Last time I started with the good, so this time lets lead with the bad.
From the beginning, Gotham's biggest problem was that it did not know what to do with its female characters. None fared worse than Fish Mooney (Jada Pinkett Smith); as an original character, Fish had no predestined arc. This would not have been a problem, but most of her story was always a tonal shift from the rest of the show and would bring everything to a screeching halt. It got worse as the season went on, with a truly awful arc that took her out of Gotham and had nothing to do with the rest of the show. It was literally a waste of screen time. In the final episode of the season she met up with Selina Kyle (Camren Bicondova) and made the young girl part of her new gang. Since Fish was played like a version of Eartha Kitt's Catwoman, if she had been played as a mentor to Selina early on, that would have made sense, be here it was too little too late. Fortunately, Fish was killed off in the finale, which can only help the next season.
The only complete waste of potential was Gordon's fiancée Barbara Keen (Erin Richards). At first Barbara was just a bland girlfriend for Gordon, with the only tension that she had previously dated Rene Montoya (Victoria Cartagena), who wanted her back, causing friction between Montoya and Gordon. After that was resolved, Barbara left Gotham after getting caught in the crossfire of Gordon's crusade against the corruption in Gotham. After a bad visit with her parents, she came home, took in Selina (and her friend Ivy), and generally showed signs of not being all that stable. Her season story ends with her actually going insane and becoming a murderer. I don't mind that they are departing from her comic book depiction, I mind that her arc was so badly written.
As for Montoya, right after Barbara leaves town we never see her or her partner, Crispus Allen, (Andrew Stewart-Jones) again.
On the plus side, the show added Firefly vet Morena Baccarin as Dr. Leslie Thompkins. In the comics, Leslie was a college friend of Thomas Wayne and one of the few people to know Bruce Wayne is Batman as she was the closest thing he had to a maternal figure in his life. Here she is introduced as Jim Gordon's new girlfriend and the new city corner, after a bad stint on the Arkham Asylum staff. While she doesn't have a great arc of her own yet, she makes a good compliment to Gordon as she actively wants to help Gordon and understands what he is fighting for.
One character I did not really touch on the first time was Edward Nygma (Cory Michael Smith), the future Riddler. At that time he was a walk-on character who provided exposition and would insist on making it a riddle to remind us how he ends up. His character ended up getting more of an arc when they had him develop a crush on a fellow staff member at the GCPD and kill her abusive cop boyfriend. The problem is that his parts of the story feel shoehorned in.
Bruce Wayne (David Mazouz) had his arc improve as the season went on. A lot of that was thanks to having Bruce and Selina meet, as she was the only witness to his parents' murder. This actually helped both characters as it gave both important interactions and set a lot of foreshadowing to their future selves. It also had romantic tension, which was handled well considering we are talking about two fourteen year olds. Bruce's scenes were also helped by the presence of Sean Pertwee as Alfred. Pertwee continues to be one of the best things about the show and is arguably the best on-screen Alfred ever.
One of the best interactions that Alfred had were scenes with Donal Logue as Harvey Bullock. Not surprising, as Logue is another of the big reasons to keep watching the show. Harvey's arc the entire season has been one of the corrupt cop having his former idealism reawakened. Logue plays the conflict perfectly and is always a treat when he is on-screen.
Since we are talking about the best things on the show, we might as well talk about Oswald Cobblepot, aka The Penguin (Robin Lord Taylor). The Penguin's story was easily the most engaging as he was always actively working towards something. In this case that something was taking out all the Gotham city mob bosses and leaving himself on top. Taylor did an amazing job with the role, which was also the best written of the whole cast.
And that takes us to our star Jim Gordon (Ben McKenzie). I will say this, since I wrote the first review Gordon became less passive and started to truly drive for change in how the GCPD operated. So he is definitely more interesting now, especially with his relationship with Thompkins. Sadly he is stuck with a characterization that is just going to pale in comparison to the presence of Bullock, Penguin, and Alfred.
In the end, I am giving the full first season of Gotham a C+. As I said the first time, it is going to drive the long time Batman fans up the wall with its handling of the characters and story arcs. It probably does better with non-comic fans who are not as invested in the mythos, but even they still have to deal with the uneven mix of good and bad performances, writing, and characters.