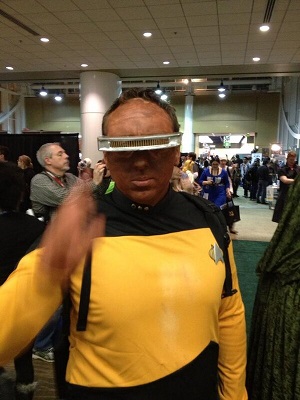 Cosplay is a big part of geek culture, especially at conventions. I have mentioned it before in discussing how people react to it and the effort people put in it. I recently attended Emerald City Comicon and of course there were a ton of people cosplaying.
Unfortunately there were a few costumes that caused something of a stir.
I don't normally refer to the thumbnail pictures I use here, but this is an exception. The picture I chose today is from Emerald City this year. If you are not sure what you are looking at, it is a man dressed as Geordi La Forge from Star Trek: The Next Generation. The man is clearly white, and has (badly) applied make-up to attempt to make himself appear black. There was also a trio of kids dressed as Michonne from The Walking Dead and her two tamed zombies. These kids were also white and wearing make-up and wigs to appear black.
In both cases, when I saw them, I got the impression that none of them understood the history of blackface, and that not one of them were being malicious. This did not stop several people from taking offense, especially on twitter.  As far as I know there were no direct confrontations on the floor.
For those of you confused about why this would be offensive, I suggest you look up the terms "blackface" and "minstrel show."  The quick version is that there was a theatrical tradition that had white performers put on make-up to appear black, with exaggerated features. These shows are a major source of many negative stereotypes of African-Americans. These shows were common up to the beginning of the civil rights movement. Since then, due to these connections people appearing in blackface are consider a racist insult or at the very least racially insensitive.
I want to be clear that I am not saying you cannot cosplay a character of a different ethnicity. At the show I saw very well done She-Ra, Wonder Woman, and Superman costumes done by African-Americans. The difference is that they did not attempt to make themselves look white. They just showed up in costumes of characters they liked and owned it. In fact there is a great Tumblr site, Cosplaying While Black, that you can check out. This is not completely free of controversy as there are some people not comfortable with seeing their favorite characters being portrayed by a different ethnicity. I do not feel these people have a leg to stand on. Just because you are uncomfortable does not mean the cosplayers needs to conform to your tastes.
Unfortunately there are a lot of people using the exact same argument to defend the blackface cosplay. I do not find these equitable arguments.
Basically it comes down a couple of factors.
One is that while blackface is still viewed as a form of racism I think there are a lot of people that are not familiar with it and so had no idea how offensive they were being.
The other is good old fashion white privilege. I assume that these people did not know it was wrong or even take a moment to consider the ramifications. I think that even the attempts to defend them come down to white privilege. For those not sure what I mean, white privilege is the perceived advantages and attitudes that come with being born white in our culture. It also is used to refer to the inability of people born white to understand the perspective of other ethnicities, such as why a person in blackface would be offensive.
And to be clear, I am a white man of middle class background, so I can fall into this trap myself.  The reason I usually don't is that I have been educated enough to know the history and to avoid making those mistakes.
In the case of our four unintentional offenders at Emerald City Comicon, I think the man in the thumbnail is just ignorant and will hopefully learn from this to not go there again. In the case of the kids I think their parents let them down by not educating them on how their choices may not go over as well as they hoped.
And if not I think the world will provide the needed education soon enough.