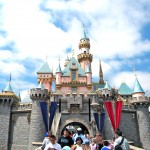 The day this article is being published on the site, my wife and I will be on our long awaited honeymoon at Disneyland.
Yes, we are taking our honeymoon at Disneyland. It was actually a very short conversation, taking all of 30 seconds. Trust me this is one of the things that told me I married the right person.
I will readily admit that Disneyland is definitely one of the things I am a geek for.
So in honor of the fact that I am taking what we are calling the Epic Disneyland Honeymoon, I wanted to take this week's article and talk about my relationship to the park.
I only visited Disneyland once as a child. I was 6 and we were visiting relatives that lived in California. It was a one day trip and while it was only the one day it left an impression. Strangely my major memories from that are about an encounter with Chip and Dale, and the Pirates of the Caribbean.
It would be twenty years later that when I finally returned to the Happiest Place on Earth. I was working for WotC and had been sent to a convention that was being held at the Anaheim Convention Center. Disneyland was right down the street and I was determined to go. Fortunately the convention center was selling passes to the park and had a shuttle service.  And with that I started a new geek that would be with me from then on.
I've been several times since. I have seen every configuration of Pirates of the Caribbean, and as of this trip I will have seen every configuration of the Haunted Mansion. I have read up on the park and know the location of most of the park's Easter eggs and special features.
I once told my Brother-in-Law that we had to go on It's a Small World because we would be pardoned of all our sins due to having suffered enough. He mocked me. He then cursed me out after the ride for not giving him sufficient warning about it. My sister wants to move into the Haunted Mansion. I am convinced that Toon Town is my true homeland.
I know a lot of people have the reaction of "why go to Disneyland if you don't have kids." I do not understand these people. Disneyland is enjoyable by everyone. It is an environment that allows you to leave cares behind and have fun. The sign over the entrance says it best. "Here you leave today and enter the world of yesterday, tomorrow, and fantasy."
Disneyland is best enjoyed when you can abandon your cynicism and remember how to enjoy yourself like a child again.
And a lot of people embrace this concept. There are groups that hold unofficial gatherings at Disneyland for this reason. The Toy Soldiers, fans of Doctor Steel, who is a musician who stylizes himself as a mad scientist, gather every March 4 for Toy Soldier day.  There is also Bats Day, where members of the Goth community and related subcultures gather in the park.
Disneyland is a cultural touchstone for us, and has provided a lot for us in any subculture.
Next week, when I am back from the honeymoon, unless something else big has come up; I will be doing a follow up about the park experience.