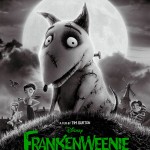 Since we are now into the Halloween season, what better way to kick it off then with Tim Burton's new film Frankenweenie? This is the full length stop-motion remake of Burton's 1984 live action short about a boy who brings his dead dog back to life.
I'm not going to cover the differences between the two here. I'm going to focus on the new film as it is its own entity and there are enough differences between the two.
The film is a parody and homage to the horror film genre that Burton so clearly loves. It obviously references old Universal Horror, but also touches on Hammer Horror, Japanese kaiju, and a smart nod to Gremlins. There is also tribute to horror stars with characters based on Vincent Price, Boris Karloff, Peter Lorrie, and a clip of Christopher Lee as Dracula.
At the heart of the film however is the simple tale of a boy and his dog. The main character Victor Frankenstein (Yes there is a lot of naming like that in the film) is a boy who doesn't go out and make friends, but rather spends his time with his dog Sparky making homemade movies. When his father's efforts to get Victor involved in sports inadvertently leads to Sparky's death, Victor is inspired to bring him back based on a lesson from the schools eccentric science teacher.
After his success several of his classmates learn what Victor has done, leading them to try themselves. Chaos ensues.
Burton has taken some heat in recent years over some not so great films, like Alice in Wonderland or Dark Shadows. With Frankenweenie Burton is clearly back on form. The large part of that is that this is a movie with heart. Victor is a character you can relate to, especially if you have ever had a pet that you loved.
One of the things I really liked about Frankenweenie was that the movie avoids a lot of clichés that normally plague a story like this. Victor is a loner, but not because the other children shun him or bully him. I was bracing myself early in the film for a scene showing Victor being bullied that never happened. From all appearances Victor could make friends but was just content being a loner. I like that the film showed that basically this was alright, even if it did worry his father.
From a technical side I was amazed at how well the stop-motion figures were able to convey the characters emotions. I watched The Nightmare Before Christmas right before seeing Frankenweenie and I could see how much the craft has evolved in the last two decades.
The voice work was also top notch. Defying expectations this is the first Burton movie since Big Fish to feature neither Johnny Depp nor Helena Bonham Carter. Other past Burton collaborators do make an appearance though. Catherine O'Hara and Martin Short both voice multiple characters including Victor's parents. Winona Ryder voices Elsa van Helsing, Victor's neighbor and love interest. Martin Landau steals the show as Victor's science teacher Mr Rzykruski who is clearly based on Burton's childhood hero Vincent Price. Charlie Tahan is the voice of Victor and his voice helps carry the emotional core of the film. Special notice also needs to go to Atticus Shaffer as Victor's classmate Edgar "E" Gore, who is of course based on the classic Igor character.
Frankenweenie is a Burton getting back to what he does best, telling a heartwarming story as filter through an Addams Family sensibility.
I give Frankenweenie an A+.