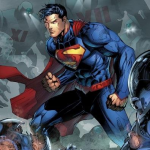 We are 10 months into the relaunch of the DC universe with the New 52. Originally I had not planned on touching on the event again until we reached the 12 month mark. But as a good friend of mine is fond of saying "When man makes plans, the gods laugh".
Between some stories that broke in the last week I felt it was time a good time to go over how I feel about the direction DC is going with its titles.
The event that set this off was an interview with George Perez on why he stepped down as the writer on Superman. It came down to a frustration due to lack of consistency on what he was being told. Implied in the interview was a high degree of executive meddling over the head of DC publisher Dan DiDio. According to George he was given contradictory instructions on an almost constant basis.
He also did not like that his book was set 5 years after the story in Action Comics, being written by Grant Morrison. Grant was not telling anyone what he was planning meaning George had to limit what he wrote as he was not to contradict anything Grant wrote.
From this we can extract the following points.
DC did not go into the relaunch with a coherent plan.
The creative staff is not getting a consistent message.
Publishers Dan DiDio and Jim Lee are not in complete charge of guiding the stories due to executive meddling.
DC is giving way too much leeway to Grant Morrison and I suspect Geoff Johns.
From the start there has been a feel that the whole relaunch was an executive plan to reinvigorate the line and make the properties friendlier to other media. The big concern was that it was a rushed half-baked plan and now that seems to be confirmed at least in part by Perez.
Looking at the books there are some points we can see.
Some books have done well. These include Swamp Thing, Demon Knights, Aquaman, Justice League Dark, and Dial H. The thing about these books is that because of how they are written they would have succeeded just as well without the reboot of the DCU. Other books that have done well are the Batman and Green Lantern books, which have largely ignored the reboot.
But then you have the books that have not done so well. Superman has had problems since September. Action is ok, but both Action and Superman feel disconnected from each other. And as you can tell from Perez's comments Superman has been a disjointed mess. Another book that is troubling is Green Arrow. It started out ok, but like Superman there was a creative team change and now it is borderline confusing.
Another issue is that there is inconstancy in the continuity. In Justice League International you have Batman as a member of the team and very supportive of team leader Booster Gold. In the main Justice League book Batman is loudly calling for the UN to disband the JLI. Add to this the fact that the members of the Justice League are acting like stuck up pricks in contrast to how most of them act in their own books.
There is another thing that makes me worried about the level of executive meddling at DC, and this one I witnessed with my own eyes.
At Emerald City Comic Con I attended two different DCU panels moderated by Batman group editor Michael Marts. In both panels questions were raised about the status of three characters, former Flash Wally West, original Wonder Girl Donna Troy, and most importantly previous Batgirl Stephanie Brown. In both cases there was someone in the audience making a slashing motion across his throat signaling Marts not to answer. In one of the panels where the audience would not let the question go Marts stated that the person making the gesture was a PR guy telling him not to answer.
To recap there was a PR guy in the audience making sure the Batman group editor did not give answers to certain questions.
Now maybe this is not that weird, but for me I have never witnessed anything like that at a convention before.
So what do I hope to see? Personally I am hoping that in another year or so that DC will announce that the new 52 is over and they are fixing the timeline to return to the more familiar continuity with maybe a few hold over changes.
But I'm not holding my breath.