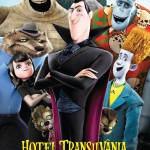 Hotel Transylvania is a deviation from our normal Halloween reviews in that it is not a horror movie, but a comedy using horror tropes. However, I expect it to become a Halloween movie staple in the years to come.
The basic premise of Hotel Transylvania is a bit silly; after losing his wife to an angry mob, Count Dracula (Adam Sandler) is left to raise their daughter alone. He builds a five star hotel to serve as both a refuge for the world's monsters from the human world and a safe haven in which to raise his daughter Mavis (Selena Gomez).
On Mavis' 118th birthday Dracula holds a huge party with all the monsters coming to celebrate. These include Dracula's best friends Frankenstein (Kevin James) and his wife Eunice (Fran Drescher), Wayne Werewolf (Steve Buscemi), His wife Wanda (Molly Shannon), and their horde of children, Murray the mummy (CeeLo Green), and Griffin the Invisible Man (David Spade).
Two things complicate Dracula's plans for the event. One is that Mavis is tired of being confined to the hotel and wants to explore the world. The other is that a human, Johnny (Andy Samberg), has stumbled upon the hotel. Dracula needs to keep the monsters from finding out Johnny is human or they will flee the hotel in terror. Adding additional stress is that Mavis is attracted to Johnny. Disguising Johnny as a monster, Dracula tries to find a way to safely get him out of the hotel, deal with Mavis' wish to spread her wings, and keep his hotel a safe home for the monsters.
On the surface, Hotel Transylvania is a concept that should not work. It is an animated horror comedy starring Adam Sandler. But it does work. A lot of the credit goes to the script writers (Peter Baynham and Robert Smigel) but the most credit goes to the director (Genndy Tartakovsky, who worked on Powerpuff Girls and created Dexter's Laboratory and Samurai Jack).
Hotel Transylvania is a very fast paced and kinetic movie, but does slow down for some well-done emotional scenes. There is never a scene that drags. The character designs are expressive and inviting, even when they are monstrous. Many of the character designs bear a resemblance to the voice actors playing them.
On the voice acting front there is not a single dud amongst them. Having a cast of comedy veterans and SNL alumni was an excellent decision. Sandler stands out in this group, not only as the main character, but doing some of the best work of his career, even if there is an occasional accent slippage.
Music also plays an important role in the film, even with it not being a musical. There are several occasions where characters, especially Johnny, are performing as part of Mavis' birthday. The music in the film is done by Mark Mothersbaugh (of Devo) and works well in the film, even if it is not particularly memorable.
Hotel Transylvania is a charming movie that can easily be enjoyed by both children and adults. I give Hotel Transylvania a grade of B. Genre fans should enjoy it, and even non-fans should be ok with watching it with their kids.
Side note: This year my five year old god daughter has decided to be Mavis for Halloween, and so the whole family is going as characters from the film. She decided I would be Frankenstein, and who am I to argue with a determined five year old on Halloween.