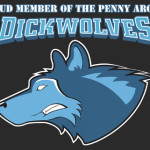 I had planned to have a completely different subject for this week's column, but then the dickwolves had to rear their ugly heads. So now I feel the need to really weigh in on this matter.
Some ground rules before we get into this. I am going to recap what led us to this sorry state of affairs, if for no other reason than to make clear what my understanding of it is. Then I am going to give my opinion on what it all means and what can be done about it.
And due to the subject at hand, I feel the need to place a trigger warning here. This subject includes discussion of rape and sexual harassment. I am going to go in bluntly at times, so be aware going in.
And with that, here we go.
This all started on August 11th 2010 when the web comic Penny Arcade published a strip titled The Sixth Slave. The strip was about the odd morality presented in MMOs where you are given a quest to rescue five slaves. In it, a sixth slave begs for rescue and when detailing the horrid conditions of his captivity says he is raped nightly by monsters called dickwolves. The mention of rape is not the central them of the strip, and is clearly there as a means to make the condition of the slave as horrible as possible.
However it was still a gratuitous use of rape as set up for a joke and some people did take offense. The creators of Penny Arcade, Mike Krahulik and Jerry Holkins, reacted to the criticism by offering a quick commentary in their blog which amounted to "agree to disagree." If that was all they had done I doubt I would be writing this right now. They also made a response strip called Breaking it down, which made light of the rape concerns.
This was the insult that really started the issue. Several blogs and even newspapers comment on the situation and almost universally object to how Penny Arcade had handled the situation. If you are interested in looking at these then go here to the Tumblr Debacle Timeline which has an exact timeline of events and links to articles.
Penny Arcade responded to these complaints by making dickwolves merchandise and selling them through their store.
Courtney Stanton, who had been asked to speak at the Penny Arcade convention PAX East, said she would not go to the convention as she is a rape survivor and could not support them, due to how the dickwolves situation was being handled. There were a couple of responses to this. One is that the dickwolves merchandise was removed from the Penny Arcade store. The other is that Courtney Stanton starts getting harassed by Penny Arcade fans. Of special note is that a pro Penny Arcade twitter account, @teamrape, is created with the express purpose of harassing people who voice any disapproval or the Penny Arcade over the dickwolves.
During all this there were no comments from Jerry Holkins. Mike Krahulik does comment, but only to mock the complaints or egg on the fans who are supporting the dickwolves. Again look at Debacle Timeline for specific examples.
And there were death threats made. Courtney Stanton of course received both death and rape threats. So did many others who commented on the situation. My friend Mickey Schulz, who writes Geek Girls Rule, wrote about this and to this day receives threats whenever the story resurfaces.
In February of 2011, Krahulik also received a death threat. This marks the only time Holkins makes any comment, to decry the people threatening Mike and to ask people on both sides to calm down.
There is much more that happened over the next year. Far more than I can possibly go over here. Again, debacle timeline covers it all very well.
Over time the dickwolves controversy, while never going away, faded into the background. But it was not completely forgotten. In July of this year, Krahulik had another controversy come up when he got into a twitter fight over his views on transgender. I covered that situation here. Unlike the dickwolves situation, Krahulik actually apologized and made an act of contrition. It was a good sign. However, this incident, combined with the dickwolves, led indie game developer The Fullbright Company to cancel their booth at PAX prime.
There was also an article posted by the Financial Post, in July, titled Penny Arcade needs to fix its Krahulik Problem. While a direct response to the transgender issue, it does reference the dickwolves.
And this leads us to the most recent event. On the last day of PAX Prime, at a panel, when asked what his biggest regret was Krahulik said it was removing the dickwolves merchandise from the Penny Arcade store. PA President of Operations and Business Development Robert Khoo backed him up, saying the complaints should have been ignored. The audience cheered and applauded.
This, of course, has reopened the wounds of the entire controversy. Almost immediately, articles and blog posts came up condemning the statements by Krahulik and Khoo. On the flip side, you had posts once again calling those making complaints crybabys, and defending Penny Arcade by pointing out all the good work they do.
On Wednesday, following PAX Krahulik posted an apology and clarification on his position. While he does think it was a mistake to pull the dickwolves merchandise he does state that he thinks making it in the first place was also a mistake. He basically says that their handling of the entire situation was a long series of mistakes.
So where does this leave us?
First, why does this situation keep having legs?
The problem comes down to the how Penny Arcade overall, and Mike Krahulik in specific, have dealt with the situation.
As I said earlier, the original joke was about the senseless and abusive MMO story mechanics but the execution of the joke was crass and caused the point to get lost in the ensuing argument.
The entire mess could have been avoided, in the first place, if Krahulik and Holkins had just apologized for offending readers and moved on. Even a BS non-apology, or simply ignoring the situation, would have probably led to it blowing over. Instead, they opted to mock those complaining and double down on the offense. That fact that Krahulik himself says he now recognizes this is hopefully a step in the right direction.
But there are a lot of people not giving any slack on this. They have pointed out that this is not the first time he has apologized, after doing something like this, and yet here we are again. There are a lot of people saying that this is purely a PR move by Penny Arcade, and that when everything dies down it will be back to business as usual. This could very well be the case, and if true than something else will happen again, and we will all be having this discussion all over again. That is assuming this blows over, this time.
There is also a lot of speculation that this may not have been the most sincere of apologies.
One good question, about the apology, has already been raised: if Krahulik says that he regrets everything they did, than why, when asked at the panel, did he say his biggest regret was pulling the dickwolves merchandise, instead of saying his biggest regret was making it in the first place?
Also, there is no mention of any steps he is taking to avoid doing this in the future. Now it could simply be that he is not the most introspective of individuals, and taking those steps never dawned on him. It could also be that the entire apology is damage control, with no other purpose behind it.
Really, there is no way for us to know.
For the purposes of the rest of the points I want to make, we will be taking Krahulik's comments from Wednesday at face value. Just mentally add "if he is truly sincere" to everything I write, from this point on.
Krahulik had stated, during the transgender incident, that when he feels threatened he gets hostile. If he is now recognizing this, and trying to work on it. then it is a step in the right direction.
When the comments appeared on Monday, Krahulik appeared to be lacking in this empathy. I think there may be some truth to this still, as he seems to not have the necessary awareness when he says things like he did on Monday. It is also possible that his apology comes from the fact that he has at least learned to recognize when something is blowing up in his face. His comments on Wednesday show that this may not be the case. The impression coming out of his latest comments could be those of someone who is in over his head. I don't think he ever imagined, when starting the comic with Holkins, that they would end up running one of the largest conventions in the industry, and be seen as role models by the community. He has said that he still sees himself as just the guy that draws a web comic.
Unfortunately for Krahulik and Holkins, they now are role models, and off the cuff comments from them do have an effect.
Then you have the fans. As I stated earlier, Penny Arcade fans can get really passionate and aggressive against PA critics. They have been known to crash web sites in the name of PA. Hell, I recognize that just by writing this column I could very well become a victim of the Penny Arcade fan rage. But if Mickey can stand up to regular death and rape threats, then I can handle being called names and maybe having my site crashed.
Let us remember that the fans cheered when the dickwolves were brought up and people in the audience called for the merchandise to be brought back.
There is a very straight forward problem with all of this. Penny Arcade has made a goal of making PAX a safe and inclusive environment for all gaming fans. In fact, they have one of the best harassment policies of any large scale convention that I have seen. However, with the continual uproar over the dickwolves and the stirring up of the fans, they actually create a hostile environment for rape survivors and, really, women in general. During PAX east, in 2011, the @teamrape twitter tried to organize a dickwolves flash mob, and did so using classic bullying language (come join our fun dickwolves flashmob). If  Krahulik and Holkins really want us to believe they want the inclusive environment, then they need to publicly decry @teamrape, and others like them, that harass people in Penny Arcade's name.
Whether the apology was sincere or not, if they do not get a proper handle on this, Penny Arcade is running the risk of having the good work they do being damaged. Already you have people writing that they do not find PAX a safe place in light of these comments and the fans reaction to the dickwolves statement on Monday.
That segues into another problem with this, a lot of the people defending Penny Arcade simply point to the good work they do, such as the Childs Play charity, as a defense saying that they do more good than harm. This is an empty defense, as harm is harm and good work does not offset it. It would be like saying Michael Vick does good work through the Vick Foundation, so that offsets staging dog fights. And Krahulik knows this, as he has said that he worries that his comments can damage the work they do.
So what needs to happen?
A lot rests with Mike Krahulik himself. He is not just an owner and creator at Penny Arcade, the brand is largely built around him. He has to internalize that his words carry weight, and that he needs to learn to pick them more carefully. If he has not taken sensitivity training, he needs to consider doing so.
In addition, Penny Arcade and its subsidiaries are going to have to face up to the fact that they have been damaged by this. They are certainly losing the impression that PAX is an inclusive environment. They are going to have people, in increasing numbers, not want to have anything to do with them. Right now, that will not have much impact, as Penny Arcade and PAX are so popular that there are more than enough fans to take up the slack. But if their long term goals are to be welcoming and inclusive, then they have a lot of work to do in order to regain that.
We, as the greater geek community, have a role to play too. Just as I am doing here, people need to give voice to this issue. But in doing so, we have to be careful to not just be screaming into the wind; we need to be making points and backing them up. The best way to make change happen is to make sure things don't just get swept under the rug
And then we bury the dickwolves once and for all.