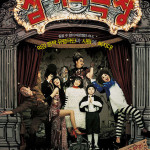 Midnight Ballad for Ghost Theater is a 2006 Korean film that is very hard to categorize. Let's call it a musical comedy that utilizes horror themes.
It is hard to find, as it has never had an official American release; however, it is possible to order  a copy from Korea.
The plot revolves around Seong Sodan (played by Kkobbi Kim), a teen age girl who lives with her Grandmother. One night her grandmother leaves the house, saying she is going to the theater to watch a movie she starred in when she was Sodan's age. Sodan tracks down the theater to find her grandmother, but no one has seen her. Interrupting a suicide attempt by the theater manager (played by Chun Ho-jin), she is given a job as ticket seller, where she hopes that eventually her grandmother will show up.
It turns out that the theater is haunted by the ghosts of the rest of the theater troop who made the film with Sodan's grandmother. They are doomed to haunt the theater until they can see that film, ("Minosoo: The Bull-headed Man") once again.
At first frightened of the ghosts, Sodan befriends them and they help her come out of her shell. She, in turn, tries to find out what happened to the film, both to help her new friends and hopefully to find her grandmother. All the while, the theater manager tries to dissuade her (between his botched suicide attempts), saying that finding the film will lead to tragedy.
If I had to sum up this movie in one word, it would be charming.
The overall feel of the film has a clear Tim Burton-esque feel to it, mainly of his earlier films like BeetleJuice. There is a sense of "what the hell am I watching", while still enjoying the ghost's antics.
The characters of the ghosts themselves are immediately engaging. First we have Elisa (played by Joon-myeon Park), who claims to be a Joseon Dynasty Princess. She is loud, bossy, and often threatens to execute the others.
Next is Hiroshi (played by Jo Hie-Bong), a Japanese solider who was stationed in Korea where he fell in love. All of his dialogue is in Japanese, but he can understand Korean, and still be understood by the other ghosts.
Wanda (played by Ae-Ri Han) is a former Kisaeng (similar to a Geisha), who fell out of favor after giving birth to a client's child. She is bulimic and obsessively counts her hair.
Finally you have Mosquito (played by Yeong-su Park), who is made-up like a demented Harlequin (or let's be honest, the Crow). Of all the ghosts, he is the only one who is given no back story.
The theater manager is clearly involved with the ghosts' story, and as Sodan unravels the mystery of the missing film, she learns more of what that is.
All the back story of the ghosts, the manager, and the film itself are done though song. And those songs can be very catchy, even for someone who does not speak Korean.
If you are looking for deep character analysis, Midnight Ballad for Ghost Theater is not the movie you want. It is a light hearted romp, with no real concern for character development.
I give Midnight Ballad for Ghost Theater a B-. It is appealing, and fans of films like BeetleJuice or The Rocky Horror Picture Show will enjoy it and possibly want to own it. Non-fans will likely be left lukewarm by its surreal nature and lack of character depth.