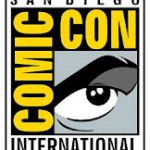 It's time for San Diego Comic-con again.That time of year. when the title of Geek Capital of the World temporarily moves from Seattle to San Diego.
I'll admit that I don't feel as excited about San Diego Comic-con as I use to. Last year I had such great plans about commenting on the news that came out of the convention daily, only for that news to either be rehash of what we already knew, of just hype about upcoming movies and TV shows.
I almost feel I could copy and paste my pre con post from last year and have it be almost as relevant this year.
Once again we will be treated to a focus on Movies and TV shows, many of which have no relationship to geek culture at all. A lot of cos-play will be featured and we will likely get a return of the pictures of guys acting inappropriately at female cos-players. And I am sure there will be plenty of coverage about the Twilight panel since, in theory, this will be the last panel for an upcoming movie.
My biggest cause for apathy however is not due to the content of the convention at all. It is based on the issue of attendance.
When I started going to San Diego Comic-con in the early 90s you could still show up at the convention and buy a membership at the door, or at least get a day pass. Not only are those days long gone, but now it is long odds to get any kind of membership at all. While they have not moved to a lottery system like Burning Man has, you do have to preregister into an online system just to have a shot at registering on line when the registration system goes live. This year they sold out in minutes, not hours, minutes. So basically you have several hurdles to jump to get a badge and if not, you are out of luck.
I understand this is due to a combination of the capacity at the San Diego Convention Center and the popularity of the event, but I still see it as a troubling sign. If people are frustrated in their efforts to go they may start just not bothering. Right now this may not seem like a problem, but if you go back and read my article Food of the Geeks you remember I pointed out that geek themed restaurant the AFK Tavern runs the risk of running off new clients due not having tables available to walk ins. It's the same theory.  After a while people may start saying "Screw it I'm not going to bother, there are other conventions I can go to that aren't sold out." And this is what can lead to an event's decline.
The simple answer that inevitably crops up is move to a site with more capacity. As simple as that sounds there are complications. At this time San Diego Comic-con is signed to stay at the San Diego Convention Center through 2015. Every time the question of moving to a larger venue comes up the city of San Diego fights vigorously to keep the convention.  Since last year it brought 162.8 million dollars to the local economy it's not hard to see why. Part of this effort is a drive to expand the convention center, but as that would cost an estimated 750 million dollars it is far from a sure thing.
Anaheim and Las Vegas both are lobbying hard to try to draw the convention away as they do have venues that could accommodate a larger attendance, but they have a strike against them, and that is that they are not San Diego. The convention organizers are located in San Diego, so they have an interest in staying local.
While the attendance issue is a pressing one, there is another factor at play that could also contribute to a decline. The convention has drifted away from its original core. When news comes out of the convention, it is again the big media stories about those Movies and TV shows. Lost in the shuffle are those pesky comic books. Every year I hear stories about how it is harder and harder for comic book vendors to get booth space due to increased costs and competition for space with other better funded media vendors. The name may be Comic-con, but the focus is clearly on movies and TV.
One thing I have been hearing is that comic industry pros prefer shows like Emerald City Comicon as they still have a primary focus on comic books. And these shows are not lacking in attendance. I learned from a staff member at ECCC that this year's attendance on Saturday was more than the entire weekends last year, and then they surpassed attendance estimations by several thousand. This has led to them securing the use of more of the Washington State Convention Centers facilities for next year.
What this adds up to is the potential for another convention to challenge San Diego Comic-con for the title of geek convention king. I for one this would be a good thing as it would give the fans more opportunities.
So here I sit waiting to see what will happen. I will of course pay close attention to what news comes out of San Diego Comic-con this year. If it is good information I will certainly write about it. If not, well I have other articles I am working on.