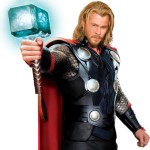 As the year comes to a close, it has been announced that Disney had broken a box office record. In 2013 its worldwide box office was over 4 billion dollars. This was achieved almost exclusively by the performance of this year's two releases from Marvel Studios; Iron Man 3 and Thor: The Dark World.
I'm sure every studio took notice. At this stage Marvel seems unbeatable at the box office and I'm sure that there are some very smart people trying to figure out how to duplicate that success.
There are, of course, several factors that have led to this success. But I want to focus on two that I feel other studios are going to have a hard time copying, and the sad thing is that one of those shouldn't be a problem.
The one that is problematic to copy is the interwoven nature of the Marvel films. As far as most fans are concerned both movies were part of the same series, and they only had to wait months for them, not years. And next year we get two more. I'm sure studios would love to get something like that going, but only Warner Brothers with the DC franchises have a shot, and they seem determined to shoot themselves in the foot with regards to that.
The other, that should be easy to copy but won't be, is how Marvel handles character arcs. In short, Marvel does not back track on their character development. Whatever changes a character goes through in one movie are still present at the beginning of the next. It seems simple but it is not that common.
To illustrate this point, I want to focus on Thor as he has one of the most dramatic arcs in the series. Warning, there will be some Dark World spoilers in here.
In the first Thor movie he is brash, headstrong, and hungry for glory. He nearly provokes a war needlessly and is punished by being stripped of his powers and exiled. During this exile he learns humility and, after seeing destruction from a human level, is more tempered in his approach, throughout this process he learns to care for people.
In the Avengers, he is no longer seeking glory and regrets the destruction he can cause, but he is still headstrong as shown in his first meeting with Iron Man and Captain America. Over the course of this film, he learns to not just rush in and be a team player.
At the beginning of Dark World we see Thor no longer rushes in, and even gives his enemies a chance to surrender. When the rest of the warriors are celebrating their victory, he is sitting quietly, no longer concerned with glory. By the end, he embraces his destiny as guardian of the nine realms, and chooses to live on Earth.
At no point does he lose any of the lessons he learned between movies and his character is constantly moving forward.
Let's compare this to the rebooted Star Trek movies. In the first movie Kirk has to learn to not be bull headed and work with his crew, especially Spock, to save the day. In the end, he is awarded command of the Enterprise.
In the sequel, he starts off making a bull headed move that has him lose his command and he needs to find a way to work with his crew, especially Spock, to save the day, eventually getting his command back. Basically, in the second movie things were reset to how they were in the first movie in an effort to give the audience something familiar.
Of the two, which do you prefer?
For me, the big test of this is going to be when Captain America: The Winter Soldier comes out. This is because it will feature the Black Widow, who is a character that has been moving around the Marvel Cinematic Universe rather than attached to one specific franchise. It will be interesting to see where she is after the events of The Avengers and how that has changed her.
Of course they could just give us a Black Widow centric movie.
Anyway, I look forward to where the Marvel movies are going, and can only hope that other studios learn this lesson.