This weekend marks the start of Halloween Horror Nights, which I count as the official kick off of the Halloween season.
For those not in the know Halloween Horror Nights is an annual event held at Universal Studios at their Florida, Hollywood, and Singapore locations. Basically afterhours during the five weeks leading up to Halloween the parks convert over to a Halloween event.
Now a lot of theme parks do this. As you get closer to Halloween the parks will have events that range from a very kid friendly one at Disneyland to very well respected event at Knott's Berry Farm. But this is Universal Studios, who created most of the horror images that are now an integral part of Halloween. So in 1991 at their park in Florida they decided to do the event, which was called Fright Nights during its first year. The next year it was renamed Halloween Horror Nights and expanded to both Florida and Hollywood.
It's worth mentioning that while Halloween Horror Nights happens at all Universal sites, Florida is usually considered the bigger one, with Hollywood being a little brother and Singapore only having just started doing it last year.  All three sites have their own development team and while they may have similar themed houses and scarezones they are not usually developed in tandem.
Originally the event was mostly Halloween themed shows and a traditional haunted house maze. Then performers called scarectors were added who wandered selected areas of the park called scarezones.  The number of houses increased, each with its own theme.  These would grow to Florida having 8 houses and 6 to 8 scarezones. Hollywood now has 6 houses, 4 to 5 scarezones, and a scary tram ride.
One noticeable difference in the houses and scarezones between sites is that Hollywood is more likely to have them themed based on an existing movie franchise, where Florida is more prone to creating original house themes and stories.
In 2000 a feature was added the really made Halloween Horror Nights stand out, the creation of the event icons. Really this was started a few years earlier when the event was hosted by the Crypt Keeper from HBO's Tales from the Crypt. In 2000 however an original character was created to be the events host in Florida, Jack the Clown. Jack was not only created visually but was given a fairly detailed back story. Basically Jack was developed enough that he could have been the main character of a horror movie. But instead he was used as the main character of the event with a house and scarezone both themed after him. Since then every year except two in Florida has had an Icon.  Hollywood will also use Icons, but has never developed an original one, either using one of Florida's or an existing character from a film franchise such as Leatherface from Texas Chainsaw Massacre.
To date Halloween Horror Nights has created the following Icons:
Jack Schmidt aka Jack the Clown (Yes they did his last name on purpose): A murderous clown who leads the demented Carnival of Carnage. Jack is the most popular icon and has been used more than any of the others. In 2001 a new Icon, Eddie was supposed to be introduced, but after the 9/11 attacks he was deemed not appropriate and Jack was brought back and a toned down Eddie was made his little brother and minion. As Jack is partly inspired by the Joker he has another sidekick, Chance, who is reminiscent of Harley Quinn.
Albert Cain aka The Caretaker: Cain was a former surgeon turned mortician who would capture people and experiment on them. Originally Albert was meant to be a background character to the events original Icon, his disturbed daughter Cindy. However a string of child abductions in the Florida area led to Cindy being pushed back and Albert being developed as the main Icon.
Paulo Ravinski aka The Director: An Eastern European film maker who would actually kill actors on film in order to capture the realism of their deaths.
Elsa Strict aka The Storyteller: An old woman who would tell stories of horror from an ancient time, known as Terra Curentas. Originally the Terra Queen was meant to be the Icon, but there were development issues with her and the Storyteller was created for promotional materials and commercials. Her lack of a backstory is unique amongst the Icons and has been played up in subsequent appearances.
Dr. Mary Agana aka Bloody Mary: A psychiatrist who through her research into fear transformed herself into the Bloody Mary of folklore. Mary had an extensive history developed, second only to Jack's. The Halloween Horror Nights' website had a multimedia game set up prior to the event that would allow people to uncover her story.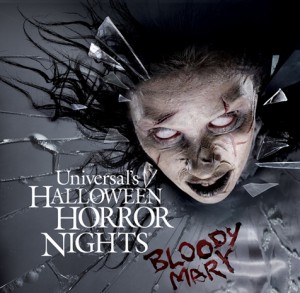 Julian Browning aka the Usher:  A strict movie usher at a 1920's movie theater. He was killed after a scuffle with a patron, and now haunts the theater and enforces his rules beyond the grave.
Fear: Literally the embodiment of fear, often called Fear Himself. He was the Icon for the 20th anniversary and brought Jack, the Caretaker, the Storyteller, the Director, and the Usher with him as his Heralds.
Lady Luck: The embodiment of bad luck. If you gamble with her and lose she will devour you. She is second only to the Storyteller in lack of back story.
Besides the Icons there are other story elements that have appeared repeatedly.
Legendary Truth: An organization formed in the 50's to investigate the supernatural. An online game based on a hunt for Bloody Mary treated the players as Legendary Truth agents. A similar game was set up for the 20th anniversary to uncover the source of the monsters. There has also been a house that was themed as a Legendary Truth investigation gone horribly wrong.
Shady Brook Rest Home and Sanitarium: A mental hospital that briefly held Jack the Clown. It has been the setting for four houses and a part of the 20th anniversary online game.
Carey Ohio: Carey, a town in Wyandot County Ohio, is the hometown of one of the creative directors of Halloween Horror Nights. Both the town and the county have been the setting for several houses over the years, to the point that this year there is a house based around all the weird things that happen in Carey.
The Chainsaw drill team: Every year at least one of the scarezones is based around a group running around with chainsaws.
But all the great backstory in the world isn't worth anything unless the houses are well executed. And this is where having a movie studio behind the theme park really comes into play. The craftsmanship behind the designs of the houses and the costumes and makeup on the scarectors is high. A lot of thought goes into Halloween Horror Nights with some park employees working year round to put the event together.
My wife and I attended the 20th Anniversary event in 2010. I'm picky about haunted houses as I use to work in what was at the time the leading haunted house in the Seattle area for a few years. I am also hard to impress because I am not a person who goes around nervous at a Halloween event because I know I am safe, so I am impressed when someone can get a jump scare out of me. At Halloween Horror Nights only one house failed to jump scare me, and even then I was impressed with how well the set, costumes, and sound was handled. Most other houses got me to jump scare at least once, and one got me five times. My wife had to remind me that I could not high five the people who got me to jump.
I was also impressed by a lot of technical details. In one house they used scarectors on wires behind a cheesecloth screen painted to look like a wall to create the effect of translucent ghosts flying by. Two of the houses used hanging items like strips of plastic or cloth in doorways and hallways to disorientate guest. You would have to reach up and brush them away and this gave scarectors a chance to sneak up. One house took advantage of the fact that your eyes would grow accustomed to the dark. A flame effect would go off when you entered a room, wreaking your night vision and distracting you so that you would not see the person hiding in the shadows.
For a break Halloween Horror Nights always has a Bill and Ted live show that makes fun of whatever was big in pop culture that year.I expect the Avengers to have a big part this year.
There is usually another show as well, but those rotate. The year we were there it was a magician that did gory tricks. This year it appears to be a circus geek show.
I did learn that there is one big difference between the Florida and Hollywood events. My sister went to the Hollywood event the same year I went to Florida. The difference is in refreshments. In Hollywood there is no alcohol available. In Florida not only are there places to buy alcohol but they had women dressed as nurses with IV bags containing Jell-O shots roaming the park.
Overall this is a fun event. If you like haunted houses you will love Halloween Horror Nights. So if you get the chance to go I would highly recommend it and I hope to go back one day myself.