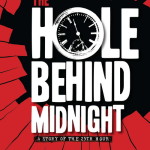 And here is episode 2 of the Hole Behind Midnight audio book podcast. Book by Clinton J Boomer. Audiobook produced by Julie Hoverson.
Royden Poole's annoying trip to the police station has taken a definite turn for the worse. So of course he needs to figure out why everything has gone to hell, oh and not get killed by the murderous clown.
The Hole Behind Midnight is meant for Mature Audiences and contains strong language and adult themes. There we warned you.
You can find the main sight for the podcast here.
And is you are interested in the book, you can find details here.
And I do show up in this episode. See if you can guess who I am.