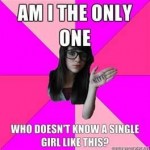 Here we go again.
While I was off enjoying my honeymoon, the whole fake nerd girl issue roared back to life with a vengeance. This is not to say that it ever went away, but the day I flew out to Disneyland to build some memories to last a lifetime with my wife, veteran comic book artist Tony Harris decided to let loose on the subject.
I'm not going to quote him verbatim, if you want to read exactly what he said go here. What I took from his rant is this: women who cos-play at conventions are just attention whores with no love and appreciation of geek culture and should just accept that their sole purpose is to be lusted after and it is their fault if men act badly around them.
I feel dirty even writing that previous paragraph.
Tony Harris is one of the best artists working in comics today. As an artist I am always going to be a fan of his work. However, after reading his rant it is clear that he has some issues that clearly need to be addressed. And he is not alone, not by a longshot.  It has been going on long enough to spawn a meme and to have become a catchphrase.
What the hell? How did this happen?
It's a complex question and a lot of people have been discussing this for a while now. As a simple male geek who loves his subculture while at times wanting to throttle it, I will now give my two cents worth.
To start with we have to understand the idea of gatekeeper behavior. This is where someone in a particular social group decides it's up to them to protect the group by determining what is and isn't appropriate for that group and attempting to purge that which they deem inappropriate. Pick any type of group that a person could be in, political, religious, social, or professional and you will find people who act as gatekeepers for that group.
By their very nature a gatekeeper is going to be a conservative member of that community as they want to keep it pure.
Now how do we apply this to geek culture?  You have to remember that as we have said before the various subsets that make up geek culture have traditionally been male dominated industries that cater to a male dominate fan base. But smart business owners know that it is good to expand your consumer base and the best way to do that is to appeal to as broad a market as possible. For a male dominated market this means trying to bring in the rest of the human race, in other words females.
While this seems simple on the surface, there is a catch. That catch is that while someone new may enjoy something, they way they enjoy it may be different than how you do.
I think I need to illustrate that last point.
My sister and I, despite both being very geeky, are very different in how we approach it. Both of us love Horror, Disney, and roleplaying. However she is not a comic book fan and I am not into fanfiction. This is not to say that either of us hasn't read comics or fanfiction, but there are subcultures to both and those are ones that she and I do not share.
So when the Avengers movie came out, as I comics fan I was stoked. What I was not aware of was that the fanfiction community also embraced it. Due to this my sister is now a huge Avengers fan, She loves the movie just as much as I do, but for different reasons. She will never know who D-man and Rage are, and I will never get Tony Stark and Steve Rodgers as a married couple.
Now a gatekeeper is going to say that she is wrong. She needs to appreciate the Avengers for its appeal to the comic fans and that legacy and enjoying stories about Tony and Steve adopting Peter Parker is wrong and should be shunned.
So this is where we have the origin of the issue. Maybe that Cos-player dressing as the Black Widow was inspired by the movie. Her interest is in putting together the costume and after all that hard work she wants to show it off. The best place to do that is at a convention. Does this mean she knows the entire backstory of the character? Who knows? The point is that this is how she has chosen to enjoy the culture. This is fine, and she should be allowed to do so. However the gatekeepers go into hyperventilation. This is the root of the fake nerd girl. The claim that she is a trespasser in our community that needs to be put in her place.
Another part of Harris' rant was that ok, you have chosen to be here dressed like that, accept that you are going to be treated as an object, not a person.
No, just no. this is not even a little ok. In fact go back and read my article on misogyny in geek culture. Or any article on this subject.
So basically what we have an issue where people are feeling threaten because other people are doing things differently.
And if you scratch beneath the surface you will find it is not just the fake nerd girl meme at play here. I have heard from a friend that right after Harris posted. He had friends of his say that they hate it when people are at an anime convention and their cos-play is not anime specific, and how they want those people banned. I have also heard of a steampunk convention where a member of the convention committee went through the dealer's hall and kicked out any dealers who they felt did not have merchandise that was "steampunk" enough.
And the worst part is that for every idiot who spews this nonsense, they will have people backing them up. If you read the comments from Harris' post a lot of people thanked him.
That right there is why I am writing this and why others need to keep at it. We have to point out that this behavior is not right and cannot be condoned. And right now we really need to keep at it as this meme has got legs. This next image is from an ad you can find in DC comic books.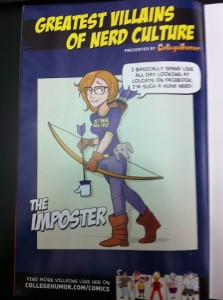 Yes, this got approved by an editor somewhere.
I'm sure I will be writing more about this in the future. In the meantime please keep this issue in mind and let's do what we can to combat it.